It's 2015 and we still have no viable electric cars, but an electric bike will do for now.
By Nick Macksood
A-A Island Auto Rental of Martha's Vineyard has four locations: Vineyard Haven, Edgartown, and two in Oak Bluffs. The one on Circuit Ave in Oak Bluffs is the first thing you see when you step off the boat. But let's get real, there are lots of other things to look at in downtown OB. You disembark and immediately there are signs hawking lobster rolls, chicken wings, cold drinks, there are women walking around in bikinis, convertibles roll on by, classic cars, motorcycles. But you know what everyone looks at first? The electric bikes sitting in front of A-A Island Auto. I'm not kidding. Go see for yourself if you don't believe me.
Location, location, location. That and Bryan Nelson and the crew at A-A Auto have been serving islanders and visitors alike for over 18 years. Though they mainly rent Jeep Wranglers or Mini Cooper convertibles in the summertime, Nelson and A-A Auto also offer 4-door sedans, minivans, and SUV's.
But the electric bikes–which I took for a spin–are fairly new to the scene and A-A Auto was one of the first to bring them to the island. In San Francisco, where Nelson got the idea from, they are everywhere. You could say that the roller-coasterish inclines in The City warrant them. Which is why I wondered why they might be necessary on the Vineyard, other than for the novelty of riding an electric bike for a day.
The Aviva e-bikes–a Rhode Island company–that A-A Auto rents are much handier than my imagination, apparently. And at $69 for a full day rental ($39 after 2pm) and $299 for a week, you might consider ditching the Range Rover for some fresh air and exercise. There are slight gradients, long inclines between some of the Vineyard's boroughs and for that the e-bike is a literal breeze. You could take this thing for a ride from Oak Bluffs to Edgartown in August at high noon and you wouldn't break a sweat. All of which is to say nothing about snaking through the traffic on the route there and then playing the circuitous lottery for a parking spot that isn't a mile away from town.
No, the Avivas zip right along at a steady 19 mph unless you really pedal like a maniac. And for all the bells and whistles that I neglected to play with during my ride, the e-bike was extremely user-friendly and I never felt that the bike was driving me. Your left thumb nudges the throttle, and your right changes the gears. The battery on the e-bikes last two hours or 20 miles, and that's only if you constantly gun it. But if the battery does run out, it's still a functioning bicycle. When you're finished riding, plug it in next to your iPhone and the bike will be fully charged in 3-4 hours.
Lastly, the Aviva was one of the more comfortable bikes upon which my groin has ever squashed itself. Bike seats shouldn't be comfortable for men, but the Aviva, somehow, achieves this. I promise. But most importantly, the e-bikes are an alternative, green choice compared to the numerous Jeeps and Range Rovers that ride around coughing carbon out into the beautiful Martha's Vineyard sky. Hey, just 2 more degrees Centigrade and most of the island will become a free water park. So good on A-A Auto for doing their part and offering a local e-bike as an alternative form of transportation. Helmets off, Bryan, but only when the bike is no longer in motion.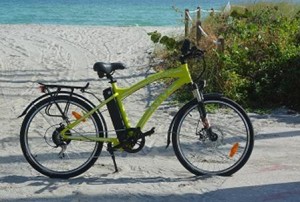 For more on whats happening THIS WEEK ON MARTHAS VINEYARD visit www.thisweekonmv.com