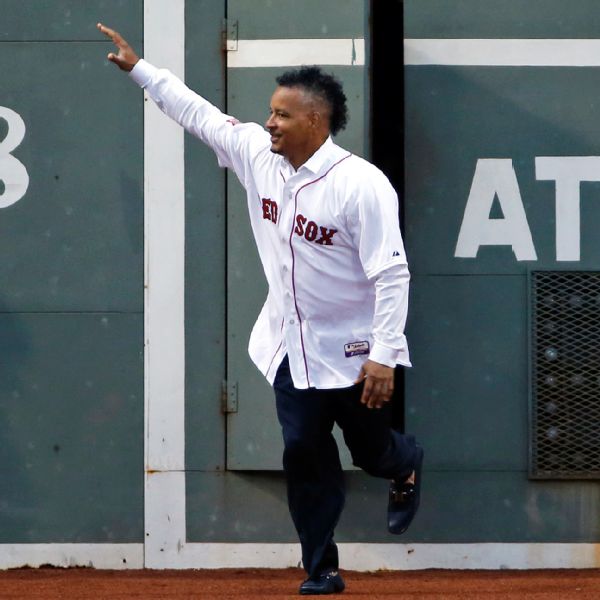 In case you're wondering, Jesus Christ's suggested hairstyle for us mortals is the Mohawk.
This was affirmed last night when Jesus' new messenger Manny Ramirez halfheartedly repented to Red Sox Nation while in the NESN broadcast booth with Don Orsillo and Steve Lyons.
Ramirez revealed that he had been "going to church for the past four years" and admitted to behaving badly while he was in Boston.
"I apologize for that, but I'm new man. That's what Jesus said, and that's what I believe," said Ramirez.
And what did Jesus preach, if not forgiveness? In fact, Jesus died so our sins would be forgiven, especially the sins of one Manny Ramirez.
The apology followed yet another canned and embarrassing celebration of 2004 World Champion Red Sox. As portlier versions of the Idiots made their way onto the field from The Green Monster, the newly Mohawked Manny was the last announced, making his first amicable return to Fenway since quitting on his team in 2008 and being shipped—surprise, surprise—to the Los Angeles Dodgers.
Now, I realize this may sound overly cynical and slightly sacrilegious. Maybe the same man who once took a leak in the Green Monster in the middle of an inning has truly found God; maybe the man same who once pushed the team's elderly travelling secretary to the ground over tickets is genuinely sorry for his actions; maybe the same man who once got into a fistfight in the dugout with Kevin Youkalis is really reading The Sermon on the Mount.
And in the words of Wayne Campell from Wayne's World: Maybe monkeys will fly out of my butt.
I'm not buying it. Any of it. The truth is I stopped thinking about Manny Ramirez when he left town, and while I found some of his antics mildly amusing—in the same way I find diarrhea rhymes mildly amusing—I'm not interested in his epiphanies or apologies.
If last night's pregame theatrics and pathetic adulation of The Idiots proved anything, it was that these guys really were and are "idiots." While every Red Sox fan will forever be indebted to them for that impossible dream season—and there is no conceivable way it happens without Manny's bat—it is time that we move on to the new team, regardless of how much they suck.
That's what Jesus said, and that's what I believe.