The Boston Bruins are hosting the Montreal Canadiens in the 2016 Bridgestone Winter Classic at Gillette Stadium this new years day in what should be a highly anticipated matchup for both franchises, hockey fans, and NBC shareholders.
Zdeno Chara, David Krejci, Patrice Bergeron, and Tuukka Rask are the only remaining players from the 2010 Winter Classic played at Fenway Park against the Philadelphia Flyers. The game resulted in a 2-1 win, after Patrice Bergeron set up Marco Sturm for the game winning goal in overtime. Sturm will most likely be remember in Boston by this photo.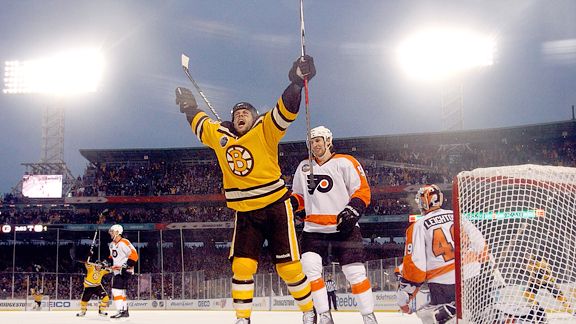 Both logos were revealed at Gillette Stadium in what appears to be an updated version of the Bruins' logo from 1924 through 1926, and the Canadiens' logo resembles one they used from 1922 through 1925.
The logo's are traditional, classy, and don't look like they were drawn with a crayon like the Bruins 2010 Winter Classic logo. Neither team has revealed the jerseys, nor the official color combinations, but like the old Winter Classic logo, it's laced with the classic brown. This will be a refreshing touch to the jerseys and a hopeful boom in Pro Shop sales. Not to mention a new colored beanie hat to add to my collection.
On top of the logo revealing, the NHL has officially announced a Bruins and Canadiens alumni game, taking place on New Years Eve pitting the hockey legends against one another for one last time.
Rosters have yet to be released, though there has been heavy speculation as to who will lace them up. Boston Bruins very own and newly beloved General Manager Don Sweeney skated with the club from 1988 through 2003, and team President and Bruins legend Cam Neely from 1986 through 1996.
"I've been asked a bunch and right now I am on the fence," said Bruins president Cam Neely. "The last game I played was the Winter Classic at Fenway Park, so it has been a while. I don't know, but it is going to be hard to not do it."
Ray Bourque, who couldn't play in the 2010 alumni game, was much easier convinced to play. After reminiscing on his days in the NHL and the rivalry he was honored to be apart of, Bourque went as far as saying "it's only fitting that we get to meet in his kind of setting".
Being a fan and having the ability to watch some of the greatest players of all time face off in a rivaled alumni game is a once in a lifetime event. These alumni were the ones who dawned the name "Big Bad Bruins" upon this organization, but don't expect players to drop the gloves with one another, nor should anyone expect any big hits, unless Mike Milbury decides to play. Anything could happen then.
This Winter Classic matchup has potential to be the most highly anticipated regular season hockey game of all time. Fans have to wait on purchasing their tickets, though the Bruins have reserved the option to buy Winter Classic tickets before they're open to the public if a "half-season" or "10/11 game" pass is purchased.
This years holiday season will be a little sweeter for hockey fans.
For the best hockey entertainment follow @RustyBojangles_